There's nothing friendly about Israeli Apartheid
An open letter from the Easton Cowboys and Cowgirls Sports and Social Club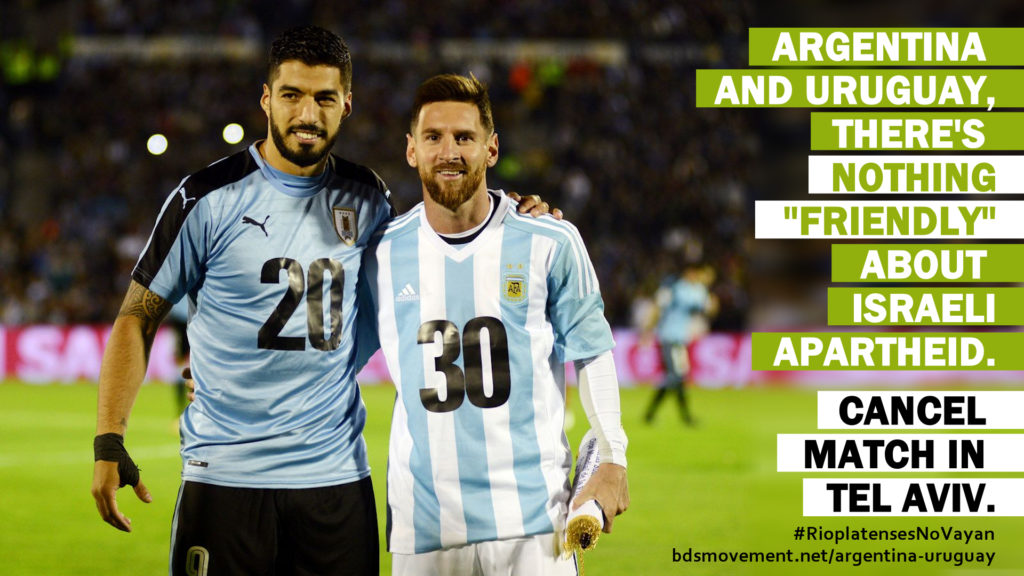 The Easton Cowboys and Cowgirls stand in solidarity with our fellow footballers at Khadamat Rafah FC in Gaza and the Palestinian Campaign for the Academic and Cultural Boycott of Israel in calling on the Argentinian and Uruguayan national football teams to cancel their match due to take place in Israel on 18th November.
The "friendly" between Argentina and Uruguay is planned to take place in Tel Aviv, part of a campaign by Israel to use championship teams and players to 'sports-wash' its regime of occupation, apartheid and oppression.
We call on players of both teams to stand in solidarity with Palestinians in their struggle, to boycott the match and not travel to Israel.
Both our men's and women's football teams have visited the West Bank of Palestine. We have met footballers unable to follow their passion due to travel and other restrictions placed on them by the occupying military regime of Israel. We have witnessed the harassment, oppression and human rights abuses taking place with our own eyes.
In the words of Khadamat Rafah FC: do "not… allow the beautiful game to be used as cover for gross human rights violations".
Signed: the members of Easton Cowboys and Cowgirls Sports and Social Club.
For more information and to sign a letter of support, see: https://bdsmovement.net/argentina-uruguay
To read the open letter from Khadamat Rafah FC, visit: https://bdsmovement.net/news/gaza-championship-football-team-urges-argentina-and-uruguay-national-teams-cancel-friendly
And for coverage of their cancelled match: https://www.aljazeera.com/news/2019/09/football-final-cancelled-israel-denies-gaza-team-travel-permit-190925133252447.html