Welcome to the Easton Cowboys and Cowgirls Sports and Social Club (ECCSSC)
We are a community sports and social club based at The Plough Inn, Easton, Bristol. Beginning with the formation of a football team in 1992, The Cowboys and Cowgirls now includes six men's and a women's football team, three netball teams, a club for kids and families (Cowboys & Cowgirls Kids Klub, or CACKK) and a whole legion of ex-players and non-sporting members (Legends & Supporters). We are also in the process of setting up a casual cricket team, after our previous league team (now the fabulously named Easton Cuttlefish Cricket Club) set out on their own due to constitution differences. 
We're not just about the sport. Players, supporters, and friends of the club organise regular social events, tournaments, and trips abroad. The ECCSSC have become not only a large sporting organisation, but also a social club who play and party with like-minded clubs all over the world. We value our social lives and ethos as being as or even more important than our sporting activities. Ideas and commitment are the lifeblood of our community. We think big and act on it.
Over the years we've visited and played in Belfast, Glasgow, Hamburg, Hanover, Antwerp, Brussels, Stuttgart, Berlin, Amsterdam, California, France, Italy, Mexico, Poland, Morocco, Palestine, Argentina and Brazil. In addition, we've held and been part of numerous events in the UK.
Although each section of the club is run for, and by, its members, every player and supporter has a voice and a vote in the wider club. We hold 'Full Club' meetings twice a year to discuss issues that affect everyone and all club positions are elected. We also come together to play in tournaments, get involved in local and international solidarity, party at our home pub The Plough and celebrate our successes (or commiserate our losses).
Everyone involved in the Easton Cowboys and Cowgirls is welcome to come to all club events. The club is run for and by its members, so we encourage and expect all our members to get involved by attending meetings, volunteering (e.g helping to run an event or organise matches) or taking on a specific role in the club.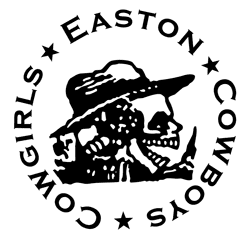 ---
ALL MEMBERS OF THE ECCSSC SHARE THE FOLLOWING CORE VALUES:
The ECCSSC is anti-racist, anti-sexist, anti-fascist, anti-homophobic and anti-transphobic.
We respect the rights, dignity and worth of every person and will treat everyone equally regardless of age, ability, gender, race, ethnicity, religious belief, sexuality or social/economic status.
We are committed to everyone having the right to enjoy club sports and social activities free from the threat of intimidation, harassment and abuse.
We aim to promote and foster participation in sport to benefit individuals, the community and wider society.
We aim to oppose discrimination and repression in a positive way, through sport and social activities locally and with other clubs nationally and internationally.
We seek to further mutual understanding and respect for all people and to challenge discrimination.
---
DOWNLOAD A PRINTABLE VERSION OF THE WELCOME LEAFLET (prints on 2 sides of A4 to make an A5 booklet)
And if you're really bored, you can read our full club constitution. Note: Individual teams may also have their own constitutions.