Yallah! Yallah! film showing CANCELLED
*Due to circumstances outside of our control we've had to cancel this showing. We'll try to arrange for a another time*
Easton Cowboys and Cowgirls in conjunction with the Palestine Museum & Cultural Centre are proud to be hosting a screening of a film commissioned by Palestinian FA vice president Susan Shalabi about the challenges facing footballers in Palestine. The director of the film will be available to conduct a Q & A after the film.
DOORS OPEN AT 18:30 WITH FILM STARTING AT 19:OO
fil, 27 Broad St, Bristol BS1 2HG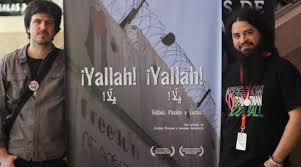 The film focuses on the story of seven characters, which are connected to the world of football in one way or another. Through their daily lives, we get to know their bond with the sport, their activities and the problems they have to face due to the occupation by Israel. Even though they are constantly affected by Israel's subjugation of Palestine, they manage to survive and endure all sorts of issues in order to enjoy one of their biggest passions: football.
Producers: Fernando Romanazzo, Cristian Pirovano, Susan Shalabi, A. M. Hijjeh
Production companies: Aqueronte Producciones, Palestine Football Association (PFA)
Most important cast: Abed-Fatah Arar / Roberto Kettlun / Yosef Alazzah / Susan Shalabi / Nabeel Hrob / Mohammad Abu Sulaiman / Eyad Abu Garguood
Language: Arabic, Spanish with English subtitles
We will also be joined on the night by the Director, Fernando Romanazzo. Fernando was born in 1977 in Buenos Aires, Argentina. He studied Image and Sound Design at the University of Buenos Aires. Fernando has worked in Ludovico Productions and founded the production company Aqueronte Productions.
We will be asking for a £5 donation on the night. All proceeds are going towards covering costs for the Director and to the Museum.