Eastonite Set Upon Eastonite
The Green Otters beat the Purple Jags
The question is how many emails does it take to organise a cricket friendly?
The answer is a number approaching infinity.
Having got together about 24 willing participants to play a friendly on Sunday someone thought to check the weather forecast. Finding that is was going to be a beautiful day on Saturday but piss down on Sunday the match was moved. 20 willing participants were found and after a final flurry of emails to discuss the dress code the Cowboys headed to Farmborough for an intra-club friendly.
With the fall of the false idol that was Green Gibbo and having got over the whole monotheistic thing, the Eastonites found two new deities: Strange and Otter Man (no special powers but fond of fish).  Team Strange was called the Purple Jags (after an email address) and Otter Man's team was called the Green Otters (after the colour of his trousers).
The match was played at Farmborough which is hallowed ground for the Cowboys being the homeland of Eddy Bridges. It is also where two Saturday teams will be based next season.
Otter Man won the toss and elected to bat first. And so Wilko and Grove strode manfully to the crease, or rather Wilko waltzed in the Werburghs style and Grove minced rather. So what is it like this Farmborough pitch? Well, the first few overs proved that bowling down the hill there is a fair amount of bounce but bowling up the hill there are a few demons in the pitch causing the odd ball to shoot or jag extravagantly off the seam. However, it is not a bad pitch to bat. The really odd thing though is the colour of the soil, which has to be seen to be believed… No,really you will have to see it yourself.
After a while Wilko was bowled by a peach from Matt D and Noodles strode to the crease in a nutritious style.  Batting with a contact lens missing Noodles was looking quite comfortable biffing a few fours until he was out to a 'back leg aberration' playing across the line to Uberpops. Justine strode manfully to the crease before succumbing to a demon, chopping a ball that did not bounce back onto his stumps from outside off.
Enter Fat Boy Littleton, the paunch star. Waving his big three pounder about in a manly manner he quickly biffed his way to 44 off 34 balls. With asthmatic Grove at one end and Fat Boy at the other the stand of 82, which included a lot of 'sharp' running between the wickets, looked like a cruel reality TV programme. Before Boults' second over Fat Boy said "I am going to go after Boults now", three balls later he was out and Boults was doing a lap of honour (much like Usain Boults, his younger brother, but without the adulation).
Iggy then made a brief cameo before being run out when Matt D hurled a ball in, bouncing it off a bemused Uberpops to hit the wickets at the bowler's end. If one interesting run out was not enough it was quickly followed by another one. Spotting that DC2 had miss-fielded at mid-on Grove called through Alex for what he was sure would be a safe single, DC2 had other ideas and wanged the ball in for a direct hit.
Grove was finally out for 84 off 89 balls having been dropped three times; finally being caught at long(ish) on by Uberpops off Matt D. The ball after this Garnier was out to an 'aberration' but Otter Man steadfastly deprived Matt D his hat-trick. The Green Otters finished their 35 overs on 212 for 8.
The pick of the bowling was Matt D who bowled on an impressive 3 for 9 and Uberpops who finished with and arthritic 23-1.
Grove and Uberpops provided the tea. In fact Uberpops did the tea and Grove just held his hand going round Morrison's to make sure he didn't have a fall. Having bad mouthed foreign influences on the English cricket tea all season Grove was somewhat embarrassed to find that Uberpops had produced a sumptuous spread in the colonial style. Or to put it another way the tea was Indian, consisting as it did of tandoori chicken, samosas, Bombay mix and a platter of Indian sweets. The whole tea was saved for the faddy, spice averse and xenophobicly palated, by the fact that Mrs Uberpops, horrified by a tea consisting wholly of foods from the sub-continent, made some Rhubarb crumble cakes that were an absolute triumph.

After far too much cake and beer the Otters took to the field and Boults and Grant took to the crease. Garner opened the bowling with an impressive 1 for 13 off 5 overs and Fat Boy opened from the other end going for 10 off 4 overs with no wickets. After the departure of Grant Matt C came to the crease with one thing on his mind – BIFF. He hit 34 off 34 balls which included two 6s (one of which upset Grove so much he is still sulking). When Boults was out for 28 Matt D and then Reg tried to keep the required rate down by hitting 22 off 18 balls and 39 off 45 balls respectively. But with Wilko getting Matt C and Iggy getting both Matt C and Strange, on his way to 2 for 20, the Purple Jaguar was stalling. A knackered Reg was finally run out going for a weary second run and with the required rate now insurmountable Justine mopped up the tail end taking 3 for 8.
So, with the Purple Jag's innings petering coasting to a halt for 178 all out in the last over the Otter Man Empire prevailed. Their prize was a very small glass trophy from which Otter Man's Sloe Gin was imbibed.
The match was recorded immaculately by Erica using coloured pens in the professional style. Even more pleasing than coloured pens was the fact that Erica uses triangles correctly for the byes and the leg-byes.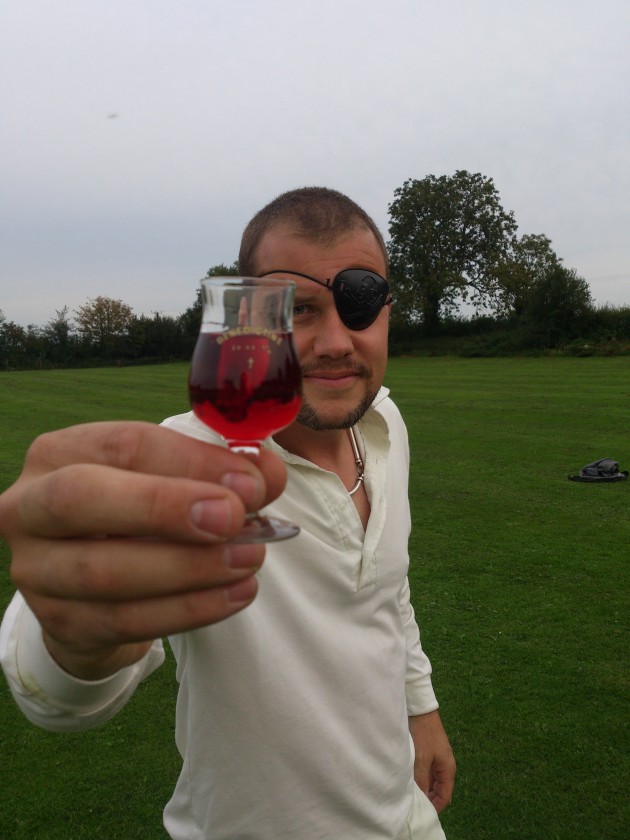 Green Otters' Innings
| | | | |
| --- | --- | --- | --- |
| Batsman | How Out | Bowler | Total |
| Wilko | Bowled | Matt D | 2 |
| Grove | Ct. Uberpops | Matt D | 84 |
| Noodles | Aberration | SteveO | 12 |
| Justine | Bowled | Matt C | 8 |
| Fat Boy | Bowled | Boults | 44 |
| Iggy | Run Out | Matt D | 10 |
| Alex | Run Out | DC2 | 1 |
| Garnier | Aberration | Matt D | 10 |
| Deano | Not | Out | 7 |
| Otter Man | Not | Out | 5 |
| W 19, NB 2, B 2, LB 6 | |  Total | 212 |
| | | | | | | |
| --- | --- | --- | --- | --- | --- | --- |
| Bowler | O | M | R | Wkts | W | NB |
| Stratto | 3 | 0 | 15 | 0 | 5 | 0 |
| Matt D | 5 | 2 | 8 | 3 | 2 | 0 |
| Uberpops | 5 | 0 | 23 | 1 | 1 | 0 |
| TT | 4 | 0 | 29 | 0 | 0 | 1 |
| DC2 | 5 | 0 | 31 | 0 | 1 | 0 |
| Matt C | 3 | 0 | 20 | 1 | 2 | 0 |
| Strange | 3 | 0 | 24 | 0 | 2 | 1 |
| Boults | 5 | 0 | 34 | 1 | 5 | 0 |
| Grant | 2 | 0 | 20 | 0 | 1 | 0 |
Purple Jags' Innings
| | | | |
| --- | --- | --- | --- |
| Batsman | How Out | Bowler | Total |
| Boults | Ct. Otter Man | Deano | 28 |
| Grant | Bowled | Garnier | 1 |
| Matt C | Bowled | Iggy | 34 |
| Matt D | Ct. Justine | Wilko | 22 |
| Reg | Run | Out | 39 |
| Strange | Bowled | Iggy | 15 |
| TT | Bowled | Justine | 3 |
| SteveO | Not | Out | 4 |
| DC2 | Bowled | Justine | 1 |
| Stratto | Bowled | Justine | 4 |
| W 18, NB 1, B 8, LB 0 | | Total | 178 |
| | | | | | | |
| --- | --- | --- | --- | --- | --- | --- |
| Bowler | O | M | R | Wkts | W | NB |
| Garnier | 5 | 0 | 13 | 1 | 5 | 0 |
| Fat Boy | 4 | 1 | 10 | 0 | 0 | 0 |
| Stroddy | 3 | 0 | 30 | 0 | 1 | 0 |
| Grove | 3 | 1 | 11 | 0 | 2 | 0 |
| Iggy | 5 | 1 | 20 | 2 | 6 | 0 |
| Deano | 3 | 0 | 23 | 1 | 1 | 0 |
| Wilko | 5 | 0 | 17 | 1 | 0 | 0 |
| Alex | 3 | 0 | 22 | 0 | 1 | 0 |
| Noodles | 2 | 0 | 14 | 0 | 2 | 1 |
| Justine | 2 | 0 | 8 | 3 | 0 | 0 |