FC Kolektivo Victoria
This tournament write-up is stolen from their facebook page. Like Them!
SKULLDUGGERY-BY-THE-SEA – AUGUST 2012
So our first 11-a-side tournament has arrived, Skullduggery-by-the-Sea, organised by the Easton Cowboys and Cowgirls to celebrate their twentieth anniversary. Unfortunately, the teammate who volunteered to drive us all to the tournament has fallen ill the night before, and we're stuck in the city. After a lot of phone calls and texts we headed to the bus s
tation for a hastily-organised coach to Bristol, arriving four hours later than planned. Thankfully a Cowboy was waiting to give us a lift to the tournament – cheers Geoff! (and to Nick for sorting it out).
On arriving at the tournament we headed straight for the pitches hoping we hadn't already missed a game. For a brief moment we thought the ringers of FC Kolektivo Hebden Bridge had inflicted a 3-0 win over a team in our absence, but unfortunately the 3-0 win over BYE, was just that – a bye. Amazing what a 4am alarm call for what turned out to be a 10am bus will do to your cognitive faculties. After finding someone who knew what was going on, it turned out we'd be playing our first match an hour later. FCKV were to join up with representatives of Hebdon Bridge to participate as FC Kolektivo Hebden Bridge – it rolls off the tongue, though I don't remember it being taken up by the crowd. We'd hoped for six of us and five of them, but in the end there was only three of us and two of them – Pete and Matt. So getting some more players was the first order of the day. In total, over our three matches we had around 15 different players pull on the red shirt, from The Yard, Easton, Republica, Kilchoan FC and our group opponents Autonomos FC and Red Star Bedminster, as well as a couple of unaffiliated players. It was a football love-in.
Our first match was against local side Red Star Bedminster. Unfortunately we lost 2-1, though it was a game we all felt we could have won (that familiar footballing story?). The game did however produce Lee's first goal from open play, and it was a peach. After receiving the ball on the edge of the area, he beat one man, Cryuff-turned another, and then curled the ball into the bottom left corner with his weaker foot. Our defence played fairly well together despite having met only moments before kick-off, as did the midfield, but despite that Red Star scored twice. We did have a number of shots on goal, including one which should have instead been a pass to Lee for an open goal, but the equalizer never came.
On Saturday our opponents were the lovely people from Sao Paulo, Autonomos FC (wearing the Lunatics strip). South American football is something that most of us grew up admiring, so we took the opportunity to become part of a long and honourable British footballing tradition by being beaten comfortably by a Brazilian side. While we were only 1-0 down there still seemed to be a chance for us, but after a magnificent triple save from what seemed like every player in our front line kept out an equaliser, we succumbed to a 3-0 defeat. Two games and two defeats meant that sadly there was no chance of us qualifying from our group.
Playing for pride, our final group game was against the Lithuanian party machine, FC Vova. Matt turned up for the game straight from the children's area where his daughter had expertly painted the three emblems on the team's shirts on his face and hands. I'm personally hoping that this will become a Kolektivo tradition, with the most committed opting for tattoos. Unfortunately, this ritualistic daubing didn't bring us quite enough mojo to register a win, but we did manage a 1-1 draw against a team who would make it to the final of the competition.
The Kolektivo goal was generously scored by Vova's centre-half in a moment of international solidarity. In fact, he was under considerable pressure from Lee who is now officially the team's top 11-a-side scorer with one goal and one assist. That's a record that's likely to stand for some time given our allergy to 11-a-side football.
On Sunday we were scheduled to play The Yard, but down to 3 men with shot knees, melted heads, and in desperate need of breakfast – the 10am game was forfeited.
Anyway, we enjoyed ourselves on the pitch, despite how bloody massive it seemed to those of us more used six-a-side (very few gazelle-like runs from defence this tournament), and we met some excellent people. Skinner, Matt and Pete made up the defence, alongside a lad from the food tent whose name (shamefully) I can't remember right now. Lee and Jimmi tore around midfield with plenty of forays up front, and we had a range of people from other teams doing their very best to get us some goals and a few points – Steve, Johnny, Patric, Rafael, and Kaz are just a few of those.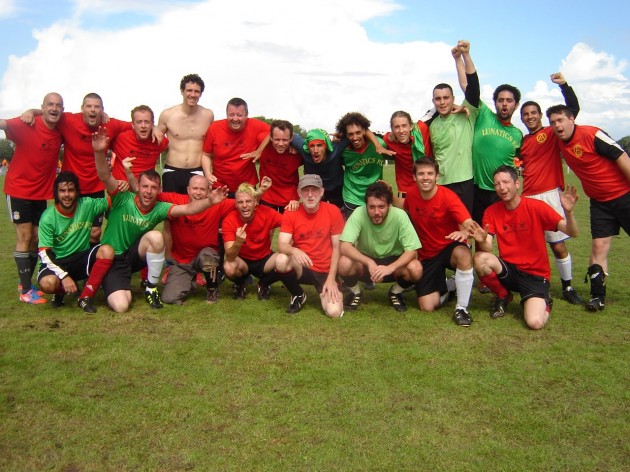 After the days competition the partying began again. Lee and Jimmi claimed later to have "bossed" the table football in the beer tent for around 30 minutes, "beating allcomers". I suspect this means that it took them half an hour to beat two small, tired children by a scoreline of 10-9, all the while whooping like loons. Their games against two FC Vova players apparently came close to the first ever table football pitch invasion. Thus far, a representative from the Lithuanian club has been unavailable to comment on the allegation. The FCKV trio were all gutted to have missed the set by top quality local band Spanner on the Thursday evening, but apparently Saturday's talent show went some way to making up for that disappointment. The high point was a bloke masquerading as a paedophile shuffling around to 'BAD' by Michael Jackson, occasionally stopping to reveal a giant cock and pissing on members of the audience. It really is time Cliff Richard packed it all in.
A really big 'cheers' goes to the Kebele Resource Centre in Bristol, and Anarchist Teapot from Brighton who provided some fantastic food across the weekend (and also to those who were catering for the meat-eaters) – it was all excellent. Congratulations to Easton Cowboys and Cowgirls for putting on a fantastic tournament, which we were very happy to be part of, and thanks to everyone who was involved in putting it together. We'd particularly like to thank Nick for making us feel very welcome in the weeks running up to the tournament, Geoff for driving us from Bristol, and Kev and Roger for going above and beyond the call of duty.
We are in the early planning stages of what we hope will be the first tournament we host in the summer of 2013 where we look forward to repaying the welcome and the hospitality we have enjoyed on our travels this summer.