Some Closer Than Others
02/07/2011
The Saturday Team beat Bath IV XI. TT reports thus:
Mixed fortunes on the field for the three Cowboy league teams this weekend, with a crushing defeat, a last ball thriller and a wobbly victory. The Saturday XI travelled to Winford for their home (?) game against Bath 4th XI, some preparing for the match by lying under the trees in the shade while the Bath contingent took over the square and performed their well-drilled exercise routines.
Captain Budge nonchalantly shrugged off losing the toss, possibly because the opposition chose to bat first on a warm and muggy afternoon with a lot of cloud cover. Still, those short boundaries at Winford do look appetising.
The leporine captain sprang down the hill and found most of the things that a bowler likes to find, like pace and bounce and swing, but despite keeping it tight, a wicket eluded him. RobT came up the hill from the flightpath end and kept the pressure on, once the autopilot was engaged, but the breakthrough wouldn't come.
The 2G combination of Grove and Gibbons struck first, if memory serves, but it doesn't and it's all a bit of a blur (others promised to help tell the story) but suffice to say, all-rounder on fire Ev's introduction into the attack tugged the zip up further on the Bath innings until something was going to burst.

And if that bowling change worked a treat, then Kalu's first over piled up the jelly and ice-cream, flighting and tempting and ripping the ball until a beguiled batsman walked out of his crease and Gretch behind the stumps made no mistake. Later in the over, the pair served up a plate of deja vu and the opposition innings suffered indigestion.
It was hard work in the field mind and both Grover and RobT had close encounters with boundary fences and hedging, edges occasionally flew and Iggy and Gretch dived but returned with no pearls. At one point, Kalu nearly pulled off a remarkable caught and bowled, but was just unable to grab the rebound, earning him both a Cider Moment award and a fine for the drop. Ev showed off his throwing arm to all on numerous occasions but the batsman must have been looking the other way, as after a while, he attempted a ridiculous second run when Ev had almost gathered the ball, and was run out by miles.
Four or five wickets down and the score was still below fifty, the run rate below three. The batting became more obstinate, stylish and coached but still the boundaries were few and far between. The captain took a remarkable catch, or made a simple one look so, deep and straight, off the bowling of Kalu, and later returned for another spell with the ball and dislodged the eventual top scorer, Beth Howe, LBW for 17.
A young tail wagged and resisted a while, but the innings crumpled, then ended with another run out in the 32nd over, with the score on 105. Behind the feeling of pleasant surprise was the possibility that it could have been even less, sitting next to the thought that perhaps the bowling attack would be deadly.
And so to tea, to enjoy Iggy's excellent provisions, eat melon in the sunshine and make passengers on incoming FlyBe jets sigh at the vision of pastoral bliss a few hundred feet below them.
Iggy and the returning Grover opened the batting to face another new ball that had been agreed upon at the start of the match. Unsurprisingly, it behaved nastily in capable hands and scoring opportunities were very limited. The score crept along until first Iggy, then Ben was bowled from the top end, the latter with a corker.
The as-yet-uneaten jelly and ice-cream had started to wobble a bit. Enter Alan, to partner Grover's stable left hand and create a solidifying toffee coating: All very sweet until Grover went LBW for 25 and Ev came in to face bowling changes.
Bath had responded to pressure and become more vociferous in the field, although the underlying bleat always evoked fear and desperation rather than confidence and certainty. But then Ev was bowled cheaply, Justin went to a good catch and Kalu went out to join anchorman Alan.
Together, on occasions, they threaded and launched the ball around the ground, Kalu scoring a six over long on to scatter the worried fielders and stir a stagnant run rate. When he was caught a few boundaries later, the Cowboys were six wickets down with about thirty runs to get in more than a dozen overs.
As a parent, your correspondent has got into the habit of not smacking a ball bowled by a small child as hard as possible to the boundary, (a la Simon Day's 'Competitive Dad') but rather spooning it up for one of his/her chums to catch in a manner that even granny would be ashamed of. So he did and the toffee coating cracked and the melted cream came out. There were more enthusiastic squeaks from the bottom field when Gretch was run out, also for a duck, but long distance, Man of the Match Alan was still there.
The Cowboys' cause was greatly bolstered by a a large number of wides that agitated and angered a few of the opposition although there was no doubt that the balls were out of reach. With many overs still to go, RobT went out to join Alan in looking in control of the situation, pulling it off with aplomb, hitting the winning runs of a two wicket victory to secure a third win in a row.
The match was otherwise reported thus:
Winford has a beautiful steeply sloping cricket ground with an ash tree inside the boundary, planes landing at Bristol Airport passing low behind the bowler's arm and a broken heavy roller. As it turned out the last of these facts would have the greatest impact on the Saturday Team's home game away (Frenchay was otherwise engaged) against Bath IV XI.
Unlike Bath The Cowboys are only allowed three teams by the league because we can't get to grips with Roman numerals even though Alan says i when he really means yes and Higgi says i i (as in aye aye shepherd's pie (don't worry it's a Scouce thing)) when something of note happens. DC2 is also sometimes called DCii and on occasion DCiv when the light catches him in such a way that he resembles a castle in romantic ruination with foliage growing up the walls.
The Cowboys arrived early at the ground to find that the foe were already there and warming up with an exotic array of exercises and drills. They had enthusiastic youth and some men with accents that hail from south of the equator; both can be bad omens when considering the prospects of a day's cricket without aggravated incident. There were also rumours that they had a wonder woman who could hit quick 50s, take 10 wicket halls and down pints of whisky while doing the River Dance; this turned out to be partially true, although she did not come to the pub after the game so that the latter remained untested.
Undaunted our brave boys set about their own preparations with Ben lying down on the ground and having a snooze, something he tried to pass off as stretching his back out. Higgi did his normal verbal warm up and swore at the sandwiches and sledged the Battenberg (no, that's not a euphemism): "you pink and yellow bastard, you think you're something but you're just a square!" Alan and Evan sat and did some hard staring into middle distance. Rob stripped to the waist and struck a pose in which he remained until somebody took pity on him, admired his six pack and thus allowed him to break the pose and get on with something more useful.
With an agreement that we would use a new ball for each innings Joe lost the toss and was told he was fielding. And so our band of brothers took to the field ready to, if not die for each other, do considerate things such as share male grooming products and pay the occasional complement.
Joe and Rob opened the bowling and the foe's openers settled down to a comfortable four-an-over with the odd scare but nothing really to soil ones trousers over. After a while everybody got board of this and so Joe called for a bowling change.  Ev was rubbed down and buffed up until he glistened in the afternoon sunshine. He trundled down the hill immediately getting a wicket with Grove frantically back peddling to take the catch at square leg. The second bowling change brought Kahlu into the fray; he too got quick results as the foe's middle order melted away. From Kahlu's spin Gretch both caught and stumped a batsman in one deft move and merely stumped another.
Now, Ev had in a comedy fashion demonstrated how good his throw is, repeatedly wanging the ball hard into Gretch even when the batsman was home and dry. He was even wearing a brightly coloured cap so that the foe could easily spot him in the field; some say it is pink but his cap is formally known as Baggy Cerise(as, apparently, is his scrotum). So, when he has the ball in his hand why would you call for a second run? Why indeed! Ask the foe's batsman because only he knows why he decided to add to the batting collapse in this way.
There were chances akimbo with the pitch misbehaving and edges flying down the hill past slip and keeper but there was a good eighth wicket stand between Wonder Woman and The Kid. Wonder Woman was in fact a young lady who batted very correctly and calmly getting the foe's top score of 17 (if you discount Mr Sundry getting 22).  The kid was a twelve year old making his senior debut who rode his luck and frustrated the bowlers. With the foe reaching 100 Joe rang the changes again chucking the ball to TT and also brought himself back at the other end. Joe's inspired captaincy (Joe had in fact miscounted Kahlu's overs and thought he had one left, TT was given 30 seconds to warm up and then told to get on with it) again brought quick results as he trapped Wonder Woman LBW and TT bowled The Kid. With a run out for the tenth wicket that was that and the foe were all out for 105 in 32 overs. Kahlu and Ev took three wickets each.
At tea we watched the charter flights pass low over the ground and mused that for every outward journey there is a homeward one… Like hell we did, we scoffed our tea, nursed our hangovers and cracked suspect knob gags. There was no complacency however since the smaller the target, the harder we seem to find it to get and the pitch was displaying a very variable bounce.
And so dear reader, for the first time this season  I get to write that, Higgi and Grove strode manfully to the crease (although Grove minced rather) ready to face the worst that the foe could muster. Higgi slapped a fine four and then departed to a nasty shooter that failed to get up and bowled him. The bowler charged down the pitch and hollered in triumph, Higgi grumpily told him to calm down and slunk back to the pavilion to have another rant, this time at the watermelon. Ben strode manfully out to show the foe what batting is all about, faced a few balls and was then bowled by the finest looking ball that has been seen this side of Cheddar Gorge so far this season.  With his duck intact Ben demonstrated to the foe how to stride manfully back to the pavilion. He was replaced by Alan.
Grove and Alan stuck it out almost until drinks riding their luck in the face of good bowling, humid conditions and a terrible pitch. The foes number one bowler managed an impressive 8 overs, 4 maidens taking 2 wickets for 9 runs. However, with a low scoring rate needed our brave boys kept their heads, "put the pyrotechnics on hold" and caressed the innings along at more or less the required 2.5 an over. The first bowling changes saw some slightly easier bowling arrive in the form of the foe's skipper and Wonder Woman who was having a little trouble with her length.
Grove eventually succumbed to the skipper's short flaccid ball that failed to get up and limply poked him in the pad trapping him LBW (the flaccid long hop is not a variation that you will find in most coaching manuals). However, this was not before he had amassed enough runs to top score with 25… Well the truth is that the extras top scored with 26 helped along by a wild spell from the foe's number 5 bowler that contained 5 wides in the first over alone; according to Higgi at least, once Ev replaced him as umpire the wides mysteriously dried up as did the foe's complaining.
Ev and Justine looked good for one boundary each before taking the manful stroll back to the pavilion and knees were heard to knock and the smell of fear wafted across Windford.  As luck would have it Kahlu does not know what "put the pyrotechnics on hold" means, nor does he know the smell of fear. He strode out with more than his fair share of manliness and biffed a 6 and a few fours hitting 17 in no time at all before getting out.
Kalu had almost taken us home but with Gretch and TT both contributing useful ducks the nerves did not settle. TT was defeated by The Kid who turned out to be a handy leg spinner and our brave boys, thrice his age, struggled to give him the life scarring thrashing that they so badly wanted to meat out. Gretch managed to defeat himself by taking a suicidal second run off a wide.  In the end it took Rob to hit the winning runs with a single dismissive thwack that unmistakably said "I can't see why you have struggled to get such a small total all you have to do is hit the bloody ball and run".
So there you have it, 8 wickets down and in the 32nd over we got over the finishing line. Alan remained undefeated on a heroic 21 in 88 balls and was awarded Most Manly Man of the Match and the new nick name of Tavaré, although he is too young to know who Tavaré was (if you are also a young whipper snapper Wikipedia has this to say of Tavaré: "His 50 in five hours and fifty minutes, against Pakistan in 1982, was the second slowest in the history of the English game.  Amongst his slowest crawls was to score just 35 runs, in six and a half hours, at Madras in the 1981/2 season"). The unrolled pitch had played up and the foe had played competitively and fairly with some very good bowling and incredibly athletic fielding. While we can't claim to have kicked their arse I think we can safely claim to have lightly chafed their buttocks.
Ev reported it by photographing the beautiful work of Bath's scorer: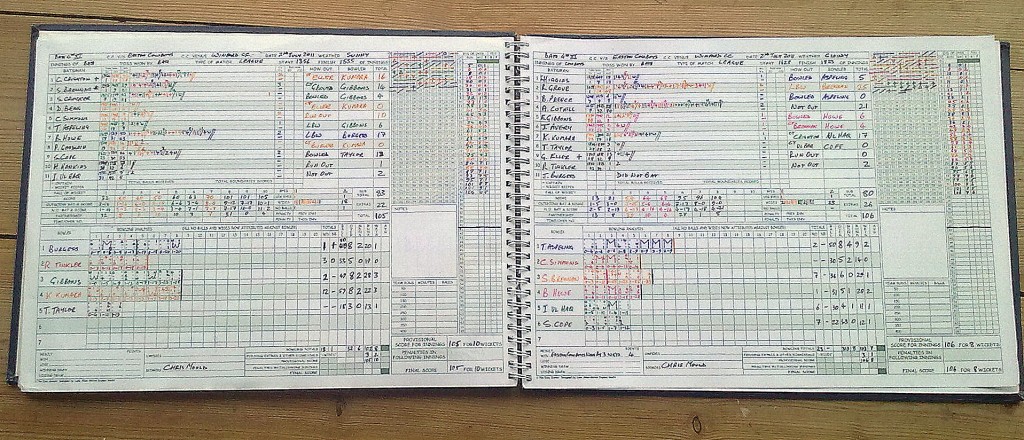 03/07/2011
The Sunday 2nd Team were involved in a game that went down to the last ball. They lost to Temple Cloud, see the scorecard here.
The Sunday 1st Team lost more easily but never the less equally dramatically to Bristol Indians by 7 wickets. Their batting slumped to 55 (24 of which were extras) all out in 17 overs, involving 6 ducks. Read the scorecard and weep here.