Updated Brasil Programme
Brasilain Update
On the evening of 31st July 2010, 26 Brasilians arrive at the Plough from Sao Paolo
Here is the updated Itinerary…
Sunday 1st August, 1pm 5 aside FUTSAL  tournament and BBQ at Easton Community Centre. If you want to enter as a team, then please do or just show up and make a team up on the day. £1 person entry. Any team that comes in fancy dress will have a goal head start (please note – High Viz United already taken!) Contact Jesse Tate:    jessetate888@yahoo.com.au or  07886 337507
Monday 2nd August – Afternoon    Alternative History tour of Bristol City Centre –   FFI ask Roger
7.30pm    Brasilian food (£6.95 per head), cheap caipirinhas (£1 off) and David Goldblat, author of 'The Ball is Round' talking about the world cup and Brasil 2014 at the Stag and Hounds on Old Market.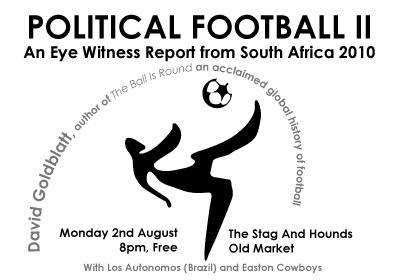 Weds 4th August – 6.00pm    AUTONOMOS V COWBOYS.  At Frys.  The Brasil Tour 11 vs Autonomos (managed by Punky – 07908 875384) and The Cowboys 11 vs Autonomos (managed by Will Sanzo – 07970 458877). If you want to play against the Brasilians – get in touch with the managers to put you name down.  In the Plough afterwards – of course!
Thur 5th August – 8pm   Brasilian punk bands! An antifascist solidarity benefit raising funds for medical bills for an antifascist shot by neo-nazis in Portland, U.S.A. Our mates from Sao Paulo play – Latin Lovers (Brazilian punks), Zine (more Brazilian punks), Ratface (Bristol hip hop), Spanner (Bristol ska punk) £4 on the door – The Plough
Then on Friday we join Republica in York for the Alternative World Cup….
If anyone can offer tents or sleeping bags for The Brasilains camping in York, let Kim know (mail@kimtilbrook.co.uk) 07833 668694
If you want to know anything else – just ask Punky, Kim, Jack D, Angelo etc…or leave a message on the website message board. x