Easton Community Centre Q&A And Event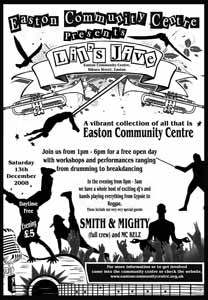 Michelle from Easton Community Center has sent details of an event on Saturday 13th at the Community Centre:
The afternoon event from 1pm-6pm is free and will have food, music, free workshops and all the staff around to ask questions. The night event is 8-3.30, its £5 and has loads happening, loads of bands, djs, food and headliners Smith and Mighty!! its going to be great and will be a great chance to come and see everything that is happening here and ask any questions you have!
In response to a request by Michelle to circulate a petition regarding the resurfacing of the all weather pitch at the rear of the Community Centre pitch the Webgimp asked some questions:Q. I understand that the Beacon Centre is running the Community Centre, that this is temporary and that this was decided by a vote by the people of Easton (according to the Community Centre website). I have tried asking people within our club about this chain of events and they all seem mystified. Please can you clarify the current situation and what the plans for the Community Centre are?
A. I hope you don't mind but I'm going to paste in a piece of text that one of the management commitee has written so you can be really clear on what has been happening here!…
When in May 2008 Toc H announced they were pulling out of running the Centre by the end of July, a group of regular Centre users and Centre tenants took the opportunity to get together and set a fresh path for the Centre, under local management. This is what followed –
May – Statements were put out to counteract the Crisis Theory that the Centre was in trouble again and to put forward the Opportunity Theory that the Centre, originally fought for and funded and developed by local people, could once again be a locally run resource.
May – Bristol City Council agreed that, although they could not contract the lease of the building to a non-constituted local group, they would be prepared to contract the lease to an established local agency, of local choice, acting in partnership with the Centre.
June – Five established local agencies running buildings for diverse people and purposes were asked if they were interested in a partnership with the Centre on a temporary basis until a new Easton Community Centre Management Group developed and constituted itself.
June – Two of the agencies presented their thoughts at a meeting of the interim users and tenants group, and the Beacon Centre was selected as the partner.
July – Bristol City Council, Beacon Centre and Easton Community Centre worked fast and furious to agree roles and development timescales for the interim lease arrangement.
August – lease signed between Bristol City Council and Beacon Centre.
Local groups and tenants that have been involved so far with this process are Asian Health and Social care Association, Aspects and Milestones Trust, Community Resolve, Christian Aid, Evergreens, Firstborn Creatives, JCK Church, North Bristol PCT, Social Enterprise Works, Somali Advice Project.
The Beacon Centre is acting as the vehicle for lease of the building, employment of staff, financial accounting, insurance and building maintenance. The Centre is in the process of constituting as a Company, as the initial step to legal independence, and a decision whether to be a Charity or a Community Interest Company will be taken by the interim management group in January. The intention is to open up membership of the Centre to all and any local people and groups in the New Year, and for that body to take the Centre forward until an Annual General Meeting in October 2009. This will be the 20th anniversary of the laying of the plaque on the front of the Centre that says "This plaque was laid by the people of Eastonon 2nd October 1989." That AGM will elect a Management body from its members.
…hope you get all that im quite happy to explain anything else you don't understand! Can't stress to you enough though that this is only a temporary arrangement. The Beacon Centre are working in partnership with the Community Centre by providing financial accountability and doing HR so that by October 2009 we can become independant.
Q. Are the Academy and the Beacon Centre one in the same thing?
A. The Beacon Centre is the adult learning arm of the City Academy. It is very much The Beacon Centre that Easton Community Centre is working with.
Q. What sort of surface is being planned for the pitch? Which sports will be accommodated?
A. They are going to try two things first before the pitch is resurfaced. Firstly they will clean a fungus off the pitch which is making it slippy, secondly they will drill holes into the pitch to see if it drains better. If neither of these techniques work we will look into getting the pitch resurfaced. If you have strong feelings on what type of surface is more practical and more widely used used we would love your input and advice, you are more than welcome and we would really appreciate your involvement in this process.
Q. I realise that this is probably difficult to answer at this point but can you give us an idea of how much it will cost to hire?
We imagine the cost will be somewhere between £10 – £15 per hour to hire, of course this has not been confirmed at all as we don't even know what type of pitch we will have. The price of the pitch for hire will be relative to other community pitches in Bristol. Once again as much advice and support is always welcomed as we are strapped for resources if any of you would like to carry out some market research on pitch hiring costs it would be really appreciated.
Q. Where is the money for resurfacing the pitch likely to come from?.
A. We are not sure where the money is coming from t the moment the first step is to go back to the original contractors and then we plan to work with the King George V Trust on it, if you know of any funds available we would love to know about them!
Q. When do you need completed petitions by?
A.S.A.P. we have most of the community behind us and MP Kerry McCarthy has shown a great interest so the more we can get and the quicker we can get them the better!
If you want to help download the petition here.