25th Anniversary Silver Mooobilee Tournament
Easton Cowboys and Cowgirls 25th Anniversary Tournament
Celebrating 25 years of sport, solidarity and silliness!
The Easton Cowboys & Cowgirls are staging our 25th anniversary celebrations from Friday 28th – Mon 31st July 2017 in Thorncombe, Dorset.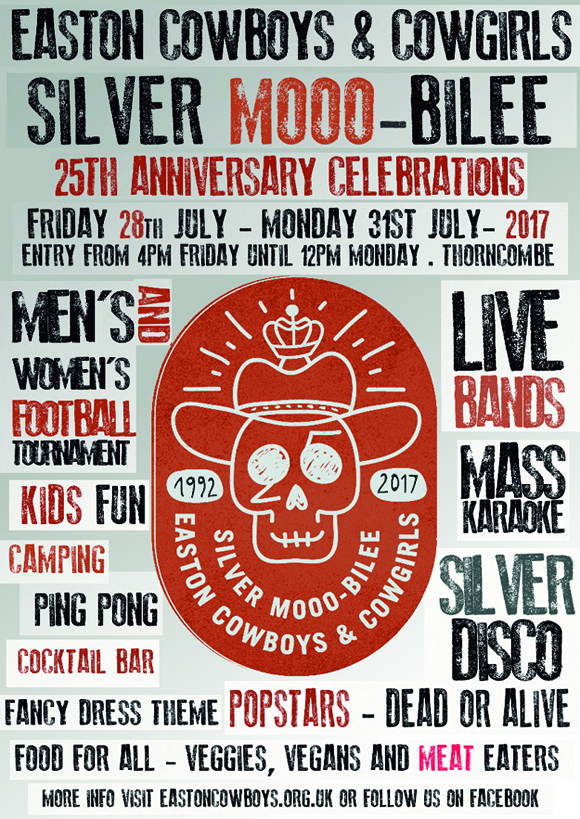 The details below are subject/likely to change at any time!
Men's and Women's 7-a-side football tournaments
20/20 Cricket (open to all)
Kids activities and football
Bands and DJs
Mass Karaoke
Silver disco
Cocktail bar
Ping pong and pub games
Meaty, veggie and vegan food and booze available all weekend
Charity shop fundraising for Temwa projects in Malawi (please bring football tops, banners, tournament memorabilia etc to donate)
The lowdown and rough plan
All invited teams have been contacted by either men's or women's football co-ordinators.
We will be asking everyone for a suggested camping donation of £10 per adult to help cover costs. This is the same whether you are staying for one night or all three.
Card payments will be accepted on site for merchandise and food & drink. However, please note that you will be a long way from the nearest cashpoint and the card machines are wifi dependent so please try to bring enough cash with you to last the whole weekend.
Friday 28th July

2pm onwards: Camping area opens for arrival and catch ups
4pm: Main tournament site opens
9pm: Tournament draw and welcome
10pm onwards: Live music from Skimmity Hitchers and Cosmic Ninja
Saturday 29th July

All Day: Men's and Women's football matches and kids activities by CACKK
7pm: 20/20 cricket game – World XI vs London Itinerants (main pitch after football)
Evening: Mass team Karaoke with a 'popstars dead or alive' fancy dress theme followed by The Silver Moobilee Disco Ball DJs (wear silver)
Sunday 30th July

All Day: Plenty more football and the finals plus kids activities by CACKK
Evening: Tournament award ceremony followed by DJs
Monday 31st July
Please help us clear up. Breakfast is available until 11am. Everyone needs to be off site by 12pm.
Download tournament poster and further details (pdf)
Some polite requests
Please don't bring your own alcohol, drink ours. It will be reasonably priced, lovely and helps pay for everything!
Please don't bring dogs.
Raised BBQs only in the camping field. No ground fires.
Please don't piss anywhere except the toilets.
We are trying to stay as plastic free as possible so please bring your own refillable water bottle. There will be tap water available but no bottled water to buy on site.
We will have plenty of recycling points for all of your rubbish.  Please help us to reduce landfill waste by using them. No excuses people. Leave No Trace.
This is a family friendly event and there is a dedicated quiet area for family camping. Please respect this. The kids activity tent isn't a creche, kids remain your responsibility at all times.
Can each team please
Register your team and pay the £100 entrance fee asap. If your team can't pay or you are short of players then please let either the men's or women's football coordinators know and we'll sort something out!
Please pay by bank transfer and use your team name as the reference
Account name: Easton Cowboys and Cowgirls
Sort code: 08 92 99
Account number: 65314359
Reference: Use your team name here so we know you've paid
International bank transfer details
Bank name: The Co-operative Bank PLC
Swift address: CPBKGB22
Account name: Easton Cowboys and Cowgirls Social
Account number: 65314359
IBAN code: GB39 CPBK 0892 9965 3143 59
Reference: Use your team name here so we know you've paid
Let us know how many of you are coming and when you will arrive
Bring a trophy/award to be presented to another team
Bring a banner to be displayed on the tournament site
Send us a short write-up about your team and a photo for the programme by 3rd July
We're looking forward to seeing you all very soon!